XPC Slim DS67U de Shuttle.
1. Shuttle XPC Slim DS67U: Introducción
En los últimos años, los barebón o "barebone" como se les llama en inglés, se han transformado en productos muy apreciados por los usuarios algo avanzados del terreno de la informática. Estas cajas, de computadoras, que tienen un tamaño por lo general inferior al que podemos estar habituados, son la solución a quienes no tienen demasiado espacio disponible para armar su PC, y como incorporan de fábrica versiones pequeñas de placas base, como las miniITX o micro-ATX, nosotros tenemos que encargarnos únicamente de agregarles procesador, memoria RAM y dispositivo de almacenamiento.
Recientemente, son muchas las compañías que han comenzado a probar suerte en este segmento de los barebones o en Slim PC, y Shuttle es una de las marcas más conocidas en Europa. En este caso, a partir de un producto al que no queríamos dejar de realizar su review, el Shuttle XPC Slim DS67U, podemos comenzar a conocer mediante las imágenes, opiniones y pruebas que acompañan este artículo.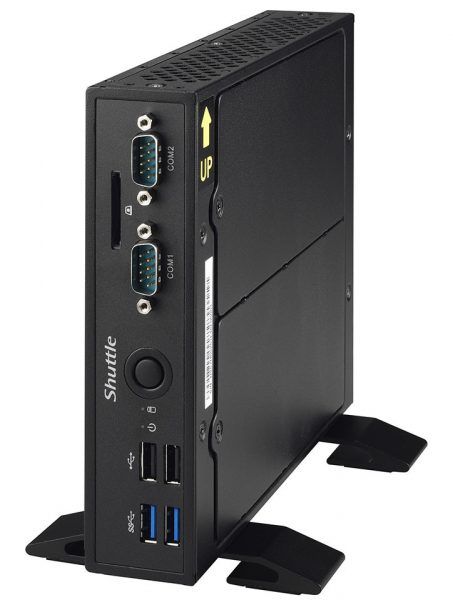 Sobre el Shuttle XPC Slim DS67U tenemos que decir en principio que viene a ser el sucesor de otro producto de la compañía que en su momento le aportó interesantes réditos en el mercado, como fue el caso del DS57U. El Shuttle XPC Slim DS67U forma parte de la misma serie XPC Slim que completan luego otros como los XPC Slim DS67U3, XPC Slim DS67U5, XPC Slim DS67U7 y XPC Slim DS68U, y en principio, la compañía recomienda su precio no vinculante de 279,00 euros para nuestro protagonista de hoy. Es decir, que de estos nuevos ordenadores ultra-delgados, es la alternativa más económica de Shuttle.
– Especificaciones técnicas –
(Mejor poner todas las especificaciones proporcionadas por el fabricante)
Fanless and Silent
Passive cooling, no fan noise at all
Perfect to be used in noise-sensitive environments
Fanless, dust-free and thus virtually maintenance-free
Low Power Consumption
Power consumption in idle mode: 10~12 W (depends on peripherals)
Power consumption under full load: 17 W / 25.5 W (CPU / CPU+graphics)
(measured with 2x 4 GB DDR3L-1600 SO-DIMMs and 500 GB 2.5″ hard disk under Windows 10 64-bit)
24/7 Nonstop Operation
This device is approved for 24/7 permanent operation.
Requirements:
– Free circulation of air amongst the PC must be guaranteed.
– Ventilation holes must stay clear.
– If a hard disk is installed, this must also be approved for permanent operation by its manufacturer
Chassis
Slim-PC (Nettop) with black chassis made of steel
Without cooling fan, passive cooling only
The bays for memory, 2.5″ drive and M.2 card
can be easily accessed by removing two cover plates.
Dimensions: 200 x 165 x 39.5 mm (LWH) = 1.3 litres
Weight: 1.43 kg net and 2.13 kg gross
Two holes for Kensington Lock and numerous
threaded holes (M3) at both sides of the chassis
Operation Position
1) Vertical: Usually operated in vertical position with the supplied feet (DisplayPort output facing up).
2) VESA-mounted: The device can also be mounted behind an appropriate monitor using the supplied VESA mount kit.
Note: From a thermal point of view horizontal operation is permitted, however, there are no rubber feet on the device. The maximum operating temperature is 35°C then.
Operation System
This barebone system comes without operating system.
It is compatible with Windows 10, Windows 8.1, Windows 7 [8] and Linux
Supports 64-bit operating systems [2]
Processor
Model: Intel Celeron 3855U (ULV)
System-on-a-chip architecture (SoC): no chipset required
BGA1356 package – directly soldered onto the mainboard
Code name: Skylake-U (6th Generation Intel Core)
Cores / Threads: 2 / 2
Clock rate: 1.6 GHz
L1/L2/L3 Cache: 128 kB / 512 kB / 2048 kB
Memory controller: DDR3L-1600 Dual Channel (1.35V)
TDP wattage: 15 W maximum
Manufacturing process: 14 nm
Maximum Tjunction Temperature: 100°C
Supports 64-bit, VT-x (EPT), VT-d, Enhanced SpeedStep, NX bit, AES-NI, SSE 4.1/4.2
Integrated graphics engine
Integrated Graphics
Intel HD graphics 510 (Intel HD Gen. 9)
Two digital audio/video ports support two independent screens:
1) DisplayPort 1.2 [7] supports 4096×2304 @ 60Hz
2) HDMI 1.4 supports 4096×2304 @ 24Hz
Supports Ultra HD / 4K resolution
GPU clock rate: 300~900 MHz
Execution Units (EU): 12
Supports DirectX 12, OpenGL 4.4
Supports full h264, h265 8/10 bit, VP8/9, VC-1, AVC hardware decoding
Supports Quick Sync Video and Clear Video HD technology
Supports HD video plus multi-channel digital audio via a single cable
Dynamic, shared memory: up to 1.7 GB
Mainboard / BIOS
Shuttle Mainboard FS67
All capacitors are high quality solid capacitors
Supports resume after power failure [6]
Supports Wake on LAN (WOL)
Supports Power on by RTC Alarm
Supports boot from M.2 SSD cards, USB devices and SD card reader
AMI BIOS in 8 MByte EEPROM with SPI interface
Supports hardware monitoring and watch dog function
Supports Unified Extensible Firmware Interface (UEFI)
Power Adapter
External 65 W power adapter (fanless)
Input: 100~240 V AC, 50/60 Hz, max. 1.6 A
Output: 19 V DC, max. 3.42 A, max. 65 W
DC Connector: 5.5/2.5mm (outer/inner diameter)
Memory support
2x SO-DIMM slots with 204 pins
Supports DDR3L-1600 (PC3-12800) SDRAM at 1.35V
Supports Dual Channel mode
Supports a maximum of 16 GB per DIMM, maximum total size: 32 GB
Supports two unbuffered DIMM modules (no ECC or registered)
Caution: This mainboard does only support 1.35V DDR3L memory modules.
DDR3L has a lower operation voltage compared to DDR3
Audio
Audio Realtek® ALC 662 High-Definition Audio
Two analog audio connectors (3.5mm) at the back panel:
1) 2 channel line out (headphones)
2) microphone input
Digital multi-channel audio output: via HDMI and DisplayPort
Dual Gigabit LAN
Dual network with two RJ45 ports
Used network chips:
1) Intel i211 Ethernet Controller with MAC, PHY and PCIe interface
2) Intel i219LM PHY connected to the MAC of the processor
Supports 10 / 100 / 1.000 MBit/s operation
Supports WAKE ON LAN (WOL)
Supports network boot by Preboot eXecution Environment (PXE)
Supports Teaming mode [3]
Wireless Network (WLAN)
WLAN expansion card (M.2-2230-AE) with two external antennas
One antenna for WLAN, the second antenna is for Bluetooth (supplied)
Chip: Realtek RTL8821AE
Supports Wireless LAN IEEE 802.11b/g/n/ac 1T1R, 2,4 GHz or 5 GHz
Max. speed: 150 Mbps (2.4 GHz) or 433 Mbps (5 GHz)
Supports Bluetooth 4.0
M.2 Slot for SSDs
The M.2 2242 BM slot provides the following interfaces:
– PCI-Express Gen. 2.0 X4 with up to 16 Gbps Data Transfer Speed
– SATA v3.0 (max. 6 Gbps)
It supports M.2 cards with a width of 22 mm and a length of 42 mm (type 2242)
Supports M.2 SATA SSDs (with B+M key) and M.2 PCIe SSDs (with M key)
2.5″ Drive Bay with SATA connector
Supports one Serial ATA hard disk
or one SATA SSD drive in 6.35cm/2.5″ format
Device height: 9.5 or 12.5 mm (max.)
Supports Serial-ATA III, 6 Gb/s (600 MB/s) bandwidth
Supports Unified Extensible Firmware Interface (UEFI)
Note: no Serial ATA cable is required
Card Reader
Integrated SD card reader
Supports SD, SDHC and SDXC memory flash cards
Supports booting from SD card
Front Panel connectors
2x USB 3.0
2x USB 2.0
2x RS232 serial ports (5V/12V, 1x switchable to RS422 / RS485) [1]
covered with black plastic caps
SD card reader (supports SD, SDHC, SDXC)
Power button
Power LED (blue)
HDD LED (yellow)
Back Panel connectors
DisplayPort 1.2 [7]
HDMI 1.4
2x USB 2.0
2x Gigabit LAN (RJ45)
Microphone input
Audio Line-out (headphones)
DC-input connector for external power adapter
4-pin connector «SW2» (2.54 mm pitch) for power button, Clear CMOS and 5V DC [4]
2x RP-SMA connectors for external Wireless LAN antennas (antennas are supplied)
Always-On Jumper
By removing Jumper J9 (please refer to the quick user guide)
the system will start unconditionally once power is applied. [6]
Scope of Delivery
Multi-language user guide
Two metal feet with four screws M3 x 7
VESA mount for 75/100mm standard (two metal brackets)
Four thumbscrews M3 x 5 mm (screws together VESA mount and PC)
Four screws M4 x 10 mm (to fix the VESA mount to the external surface)
Rack (to mount a 2.5″ storage in the bay) with two screws M3 x 4 mm
Two antennas for WLAN and Bluetooth
Driver DVD for Windows 7, 8.1 and 10 (64-bit)
External power adapter with power cord
Environmental Specifications
Operating temperature range: 0~40 °C [5]
Relative humidity, non-condensing: 10~90%
Conformity/Certifications
EMI: FCC, CE, BSMI, C-Tick
Safety: ETL, CB, BSMI
Other: RoHS, Energy Star, ErP
This device is classed as a technical information equipment (ITE) in class B and is intended for use in living room and office. The CE-mark approves the conformity by the EU directives:
(1) 2004/108/EC relating to electromagnetic compatibility (EMC),
(2) 2006/95/EC relating to Electrical Equipment designed for use within certain voltage limits (LVD),
(3) 2009/125/EC relating to ecodesign requirements for energy-related products (ErP),
(4) 1999/5/EC related to Radio and Telecommunications Terminal Equipment (R&TTE)
Footnote:
[1] Jumper for COM port configuration
Pin 9 of the COM-Port is a multi-functional signal. Based on the Jumper JP1 configuration on the mainboard, it can be configured as Ring Indicator (RI) or external power supply with a voltage level of either 5V or 12V. Each COM port can be configured separately.
The operating mode of COM 1 can be set to RS232, RS422 or RS485 in the BIOS. COM 2 supports RS232 mode only.
[2] Supports 64-bit operating systems
For Windows: only 64-bit versions are supported
For Linux: Ubuntu and Fedora support 64-bit only, but OpenSuse can also support 32-bit.(date Jan'16)
[3] Teaming Mode
The teaming function allows you to group both available network adapters together to function as a single adapter. The benefit of this approach is that it enables load balancing and failover.
Driver download: https://downloadcenter.intel.com/download/21642
[4] Four-pin header at the back panel
This header allows for connecting an external power button.
It also provides 5V DC voltage for external devices and the Clear CMOS function.
[5] Caution: for high ambient temperatures over 35°C we strongly recommend to use SSDs (supporting at least 70°C).
[6] Power on after power fail:
The BIOS setup provides a «Power-On after Power Fail» function that can be found under «Power Management Configuration». This function determines the PC's behaviour after power failure. As a matter of the nature of this function, it may fail after short power failures. This is why the Shuttle Slim-PC Barebone DS67U also comes with a hardware-based solution. By removing Jumper J9 (please refer to the quick user guide) the system will start unconditionally once power is applied.
[7] How to convert DisplayPort into HDMI/DVI
The DisplayPort output can be converted to HDMI or DVI by an additional, passive adapter cable. For example:
DELOCK 82590: 1m, DisplayPort (male, 20p) to HDMI-A (male, 19p)
DELOCK 82435: 5m, DisplayPort (male, 20p) to DVI-D (male, 24p)
The integrated graphics automatically detects the connected display and puts out the appropriate electric signal – either DisplayPort (without an adapter) or HDMI/DVI (with an adapter).
However, a monitor with a DisplayPort connector cannot be connected to the HDMI port with a simple, passive adapter.
[8] Installation of Windows 7
Intel® Skylake-U processor series has removed their support for the Enhanced Host Controller Interface (EHCI) which is the driver software for the USB 2.0 ports. The new chipset only supports the updated Extensible Host Controller Interface (xHCI for USB 3.0) which is not supported by the original Windows 7 installation disk. This means, that peripheral devices connected by USB (like keyboard, mouse and external optical drive) do not work during the Windows 7 Installation. As a solution please add the required USB 3.0 drivers to the Windows 7 installation files (with SP1) – this procedure is explained in the Shuttle FAQ section at www.shuttle.eu.